Healthy Holiday Survival Guide
There seems to be a Holiday Guide for just about everything these days.  So, not wanting to be left out, I've come up with a few survival tips for juicing & staying healthy this holiday season.
Maintain your healthy routine!  If you normally wake up and start your day with a juice or smoothie, then just keep doing it.  By keeping a healthy routine, you can allow yourself to indulge on those truly special occasions without guilt or shame.
Be festive with your healthy choices.  I've provided a few examples below that are fun and festive, but won't trash all your previous healthy efforts.
Make new traditions. Certain foods are tradition and it just isn't the same without them.  For me, its my grandma's rolls.  When I recently learned how to make them, I was shocked to learn some of the ingredients that make them taste so good.  So this year, I'm going to start a new tradition with my family, to make up our own holiday smoothie. (Check back later this week to see what we come up with.)
See the big picture.  Remember that while it is just one day or one party – these one time decisions add up.  The average person actually only gains only about a  pound a year from Thanksgiving to New Years, but the majority of those individuals never take that pound back off, so over the years, one turns into 20!
From holiday parties, work lunches/dinners, family gatherings to holiday sweets, be prepared this season. Don't give up your healthy ways to go along with the crowd or what you've always done.
"If you do what you've always done, you'll get what you've always gotten." – Anthony Robins
Decide what you can do to be healthier than ever before going into the new year!
Elf Juice
from nosugarsweetlife.com
4 cups spinach, chard, kale (equal mix or all of one kind)
1 lime (peeled)
Citrus Sugar:
1 1/2 cups sugar
1 teaspoon lemon zest
1 teaspoon lime zest
1 teaspoon grapefruit zest
1 teaspoon orange zest
1 teaspoon ground ginger
1/2 teaspoon cinnamon
Punch:
3/4 cup Citrus Sugar
1 cup lime juice
1 cup lemon juice
2 cups orange juice
1 cup grapefruit juice
1 cup mango nectar
1 cup pineapple juice
3 3/4 cups Captain Morgan Spiced Rum
2 1/4 cup Grand Marnier
1 1/2 cups Amaretto
3 cups sparkling water
orange, lemon, lime, grapefruit slices, frozen cranberries for garnish
Healthy Eggnog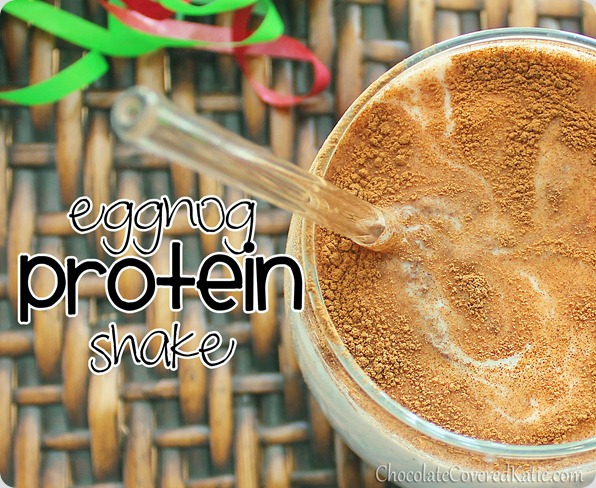 from chocolatecoveredkatie.com
1 cup milk of choice (240g) (Use a thicker milk for best taste. Silk almond milk works well. Coconut milk (the full-fat kind that comes in a can) works well too. Or you can do 1/2 milk and 1/2 Silk creamer for a deliciously-rich shake (240g)
1/2 cup Mori-Nu silken-firm tofu (There are a few soy-free substitutions for this recipe. See "nutrition info" link below for all options.) (120g)
1/2 tsp lemon juice (2g) (omit if desired)
1/8 tsp salt
2 tsp xylitol or sugar (8g)
1 nunaturals stevia packet, or 1 tbsp sugar (or evaporated cane juice, coconut sugar, etc.)
1/2 tsp pure vanilla extract
1/2 tsp cinnamon
1/4 tsp each nutmeg and ginger
1/16 tsp (tiny dash) cloves
optional: a little rum if desired
Combine all ingredients and blend until smooth. Drink cold, or heat if desired. Recipe is single-serving and can be sugar-free, dairy-free, vegan, cholesterol-free, low-fat, and gluten-free. And no raw eggs!
Pin It